News from the GammaRay Camp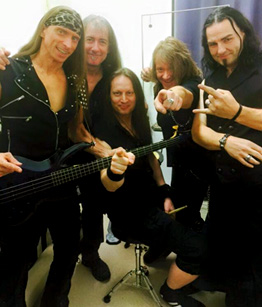 The band has decided to further on work with two singers for several good reasons.
So from now on the vocals there will be Mr. Kai Hansen as usual plus and welcome please Mr. Frank Beck with whom the band has done already a good amount of shows in the past. We found out that Frank is not only a great singer that very much fits into the band from his voice and from his temper of the voice and his kind of singing but as well as a very very good human being that is fit to live up to the extreme expectations that we as a band have for people joining.
Mainly this guy cannot only sing, he can party, too and that's very important. So that was reason one.
Another good reason was that Kai just felt that it's time for him to cut a bit shorter on singing because he found out that his long touring especially headline shows after a while always tends to fuck up the voice and end up with something that is not a hundred percent. So sharing the vocals makes things much easier and much more pleasurable.
It will not only give the band a new dimension soundwise or vocalwise but it will as well – and here is reason number three – give Kai the freedom to move around on stage a lot and plus create a bit more action on the live performances and be more free to play the guitar which actually he does like a lot.
So ladies and gentleman please welcome the new GammaRay and please welcome Mr. Frank Beck.