GAMMA RAY ANNOUNCE 25th ANNIVERSARY 2CD REISSUE OF "SIGH NO MORE"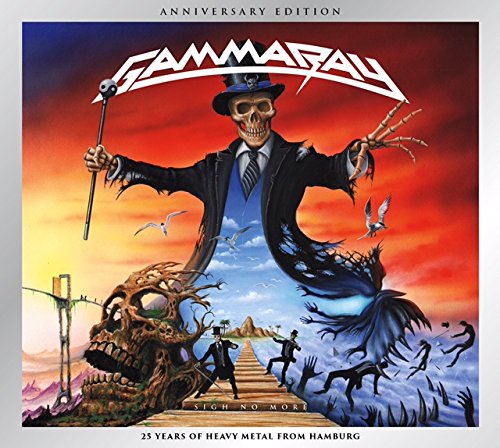 "Sigh No More" (Anniversary Edition) will be released on September 25th, 2015 on earMUSIC.

25 years of Gamma Ray – 25 years of heavy metal from Hamburg: what started out in spring 1990 with the release of their debut album Heading For Tomorrow has achieved international fame a quarter of a century later. Tours around the globe with sold-out shows in the US, Canada, South America, Asia and the whole of Europe plus appearances at the most renowned festivals worldwide – vocalist/guitarist Kai Hansen's band has long taken the world by storm. Their success is based on more than two dozen recordings, among them eleven studio albums, a number of live releases, DVDs, EPs and singles, which have earned Gamma Ray high chart positions on a regular basis. So it comes as no surprise that the group's ever-growing fan base turns out in hordes wherever they play. And of course the top 15 position of their current release "Empire Of The Undead" and an album-of-the-month nomination in Metal Hammer and Rock Hard magazines prove unmistakably: Gamma Ray continue to be on the top rung!

In view of this impressive stocktaking on the occasion of their anniversary, there's a special reason to rejoice for their international fan community: the band's full back catalogue will be rereleased over the course of a year. All albums will be available as premium-quality digipaks including newly designed cover artwork. To cut a long story short: Gamma Ray are celebrating their anniversary in style, and all their fans are invited!

When Gamma Ray started to work on their second studio album Sigh No More in spring 1991, the international heavy metal scene had just been plunged into their first and at the same time most serious crisis to date. Grunge was the flavour of the day and musicians sporting checked shirts and a grubby street look were fast becoming the new stars. At the beginning of September 1991, Nirvana's hit 'Smells Like Teen Spirit' arrived on the scene and Kurt Cobain became the icon of a new musical genre. The old heroes were considered outdated, or at least so it seemed for some time.
Gamma Ray's sophomore album "Sigh No More" sure didn't sound outdated.
The Gamma Ray line-up consisting of Hansen, Ralf Scheepers, Dirk Schlächter, Uwe Wessel & Uli Kusch rented a holiday cottage on the Danish island of Rømø. They took only their "hand luggage", i.e. drums, just a few guitars/bass guitars and small amps, as well as – to be able to record their ideas – two microphones and an ADAT recorder, a kind of predecessor of today's digital studio programs.
Back in Hamburg, they continued to polish their ideas and started to look for the right producer. Gamma Ray had already enlisted the ideal choice for the mix of their 1990 debut Heading For Tomorrow: Tommy Newton.
During the preproduction, the band initially set about working on the songs full steam at the Karo studios in Brackel near Hamburg. Newton contributed his extensive experience to turn Sigh No More into a powerful and harmonious album and even tried new and unusual approaches.

When the album was released on 21 September 1991, the highlights were soon identified: the opener 'Changes' became a Gammy Ray classic, just like 'Dream Healer', the longest track on the album, and 'One With The World', supported by the first Sigh No More video clip, shot in the sand dunes on Rømø. 'Rich And Famous' was extremely popular, and the initially slightly inconspicuous 'The Spirit' developed into an insider's tip among fans.

The 2015 anniversary re-release of Sigh No More includes, along with the ten original tracks, perfectly remastered by producer/sound engineer Eike Freese (Dark Age, Deep Purple), a number of previously unreleased recordings from the re-recordings with Kai on vocals, home demos and the pre-production at the Karo studios (among them 'Heroes', which later became the opener 'Changes'), plus a number of selected live cuts.

Tracklist
CD1 – Studio album
The original studio album including its B-Sides. Remastered in 2015 by Eike Freese.
1. Changes
2. Rich And Famous
3. As Time Goes By
4. (We Won't) Stop The War
5. Father And Son
6. One With The World
7. Start Running
8. Countdown
9. Dream Healer
10. The Spirit
11. Sail On (Live)*
12. Changes (Live)

*Japanese Bonus Track


CD2 – Bonus CD
Including previously unreleased demo versions, alternative versions, instrumentals, live songs...
1. One With The World (Live at Wacken 2011)
2. Dream Healer (Live in Montreal 2006)
3. Changes (Blast From The Past version)
4. Rich And Famous (Blast From The Past version)
5. One With The World (Blast From The Past version)
6. Dream Healer (Blast From The Past version)
7. Heroes (Preproduction) **Alternative version of "Changes"
8. Dream Healer (Preproduction)
9. As Times Goes By (Preproduction – Kai on vocals)
10. (We Won't) Stop The War (Preproduction – Kai on vocals)
11. Dream Healer (Demo – Kai on vocals)
12. Rich And Famous (Demo – Kai on vocals)